Dr Matthew Spargo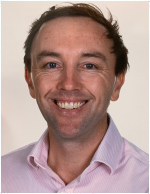 Dr Matthew Spargo
MBBS (Hons), MPH, BCom/BSc, FRANZCO
Dr Matthew Spargo is an ophthalmic surgeon with subspecialty interests in paediatric ophthalmology, adult strabismus and cataract surgery. His subspecialty fellowship training took place at Birmingham Children's Hospital, Cheltenham General Hospital and Oxford University Hospital in the United Kingdom. He currently holds a position as a consultant ophthalmologist at Sydney Children's Hospital in Randwick.
Dr Spargo graduated from medicine with Honours from The University of Sydney, proceeding to achieve a Master of Public Health degree. His specialty training in general ophthalmology was completed at The Prince of Wales Hospital and Sydney Children's Hospital, being the Professorial Senior Registrar in his final year.
Dr Spargo has a keen interest in teaching and holds a position as a Conjoint Associate Lecturer at the University of New South Wales. He is also an active contributor to the academic literature, having published in peer-reviewed journals and presented at national meetings. His other passion in ophthalmology is delivering eye care services to rural and remote communities, offering his time to the Outback Eye Service, providing ophthalmic surgical care to communities in Western New South Wales.