Dr Kenneth G-J Ooi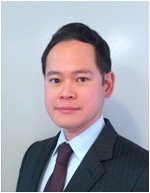 Dr Kenneth G-J Ooi
MBBS (Adel.), MSurg (Ophth.), FRANZCO
Dr Kenneth Ooi is a consultant general ophthalmologist and cataract surgeon with an interest in ocular inflammation including dry eye inflammatory states. He has completed his fellowship exam with the Royal Australian and New Zealand College of Ophthalmologists through Prince of Wales Hospital and a Master of Surgery (Ophthalmology) with University College London and the University of Adelaide. He is undertaking a part-time PhD at the Save Sight Institute, Sydney Eye Hospital Campus, University of Sydney where he is a Clinical Senior Lecturer. He also holds a Conjoint Lecturer appointment at the School of Medical Sciences, UNSW and has several publications on ocular inflammatory states.
He has completed a corneal clinical research fellowship with Prof. Stephanie Watson at Prince of Wales and Sydney Eye Hospital and a uveitis clinical research fellowship with Prof. Susan Lightman at Moorfields Eye Hospital and the Institute of Ophthalmology, London. He was Professorial Senior Ophthalmology Registrar to Prof. Minas Coroneo at Prince of Wales Hospital, Sydney.
He has been awarded the Queen Elizabeth Hospital, University of Adelaide Annual Research Day Prize; Faculty of Health Sciences Divisional Scholarship, University of Adelaide; Fight for Sight Bursary, London; Save Sight Institute Grant, University of Sydney and nominated for the Troutman Cornea Prize for Young Clinician Investigators. In 2013 he was also nominated for the Best Early Stage Innovation for the UNSW Innovation Awards and granted an international patent for a novel dry eye drop – Topical Atorvastatin for Blepharitis and Dry Eyes with Prof. Stephanie Watson.
He is also fluent in German and conversant in Cantonese and French.