Yag Capsulotomy For Secondary Cataract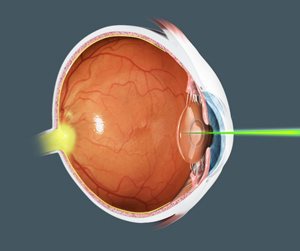 Following cataract surgery, vision may become blurry. When the posterior capsule (behind the intraocular lens) has clouded, laser surgery can be used to make a tiny opening to improve vision, often quite promptly and dramatically.
Cataract Removed
The cataract is removed surgically and An artificial lens (IOL) is placed in the eye, on the posterior capsule. The capsule is left behind to support the lens.
Posterior Capsule Clouded
The posterior capsule can become clouded, keeping light from reaching the retina and obscuring vision.
Laser surgery
The YAG laser is used to open the clouded posterior capsule by making a tiny opening. This opening allows uninterrupted light to enter through, and vision is restored. Laser surgery offers many advantages over non laser surgery – the eye is not opened surgically, there is no needle, no stitches, no hospitalisation, and no infection. Topical anaesthetic may be needed. The treatment makes a small crackling sound. No further surgery is required. You will need to have your pressure checked following surgery.
Risks: Laser may nick IOL (usually doesn't affect vision) or retinal detachment (rare).
Note:The pupil needs to be dilated for capsulotomy; therefore care must be taken after capsulotomy. Vision may be blurred for the rest of the day. On the day of the surgery you should not drive and should take care where you walk. A companion is desirable.