Dr Hamish Dunn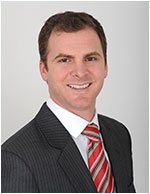 Dr Hamish Dunn
B Lib Stud, MBBS (Hons), FRANZCO
Dr Hamish Dunn is an ophthalmic surgeon with a subspecialty interest in glaucoma and oculoplastics. He consults at North Shore Eye Centre (St Leonards) and provides ocular emergency support at WiSE (Macquarie Park). He is the Glaucoma Fellow at Westmead Hospital.
After completing his undergraduate studies in psychology and languages, he worked for UNICEF in Guyana, South America. He then returned to Australia and studied medicine at the University of Sydney, having received their most prestigious academic scholarship, the Graduate Merit Scholarship. He was later awarded a scholarship to work with the Fred Hollows Foundation in Madang, Papua New Guinea. During his medical studies he co-founded the Australian Indigenous Mentoring Experience which is now the most successful program of its kind in the country.
His ophthalmology training was at Sydney Eye Hospital, and he was the Senior Registrar at the Children's Hospital at Westmead. He undertook a Senior Registrar training year at Royal North Shore Hospital with a subspecialty focus in glaucoma and oculoplastics, and extensive training in complex cataract surgery.
Dr Dunn brings the latest research to his patients with his involvement in international clinical trials in glaucoma. He has written several peer-reviewed publications, as well as NSW Health guidelines on optimal patient care, and reviews articles for the Journal of Clinical & Experimental Ophthalmology. He is a Clinical Associate Lecturer at the University of Sydney, and a Guest Lecturer at Macquarie University.
Dr Dunn believes clear understanding and communication between doctors and patients is critical and works as an educational consultant with the Pam McLean Centre at Sydney Medical School. He has a keen interest in ensuring his patients have their questions answered, understand their ocular health and treatment options; and works together with them to develop a treatment plan.
He is fluent in Italian.