Vitrectomy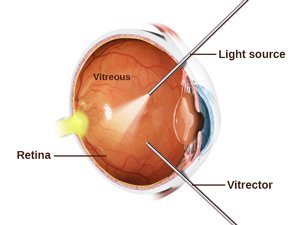 The vitreous gel that is pulling on the retina is removed from the eye and usually replaced with a gas bubble. Your bodies own fluid will gradually replace the gas bubble. Sometimes this procedure is combined with scleral buckle. The length of the surgery varies from one to several hours, depending on your condition. This surgery may need to be combined with cataract surgery if the lens of the eye is not clear (cataract) which makes it difficult for the surgeon to see into the eye properly. The ophthalmologist view's your eye through a microscope. Various miniature instruments are placed into the eye through tiny incisions in the sclera (white part of your eye).
Before surgery
Your ophthalmologist will confer with an anaesthetic colleague to decide whether local or general anaesthesia is best for you. You may have to stay overnight in the hospital. You will need to have a physical examination to alert your ophthalmologist to any special medical risks. A painless ultrasound test maybe performed to view the inside of the eye.
After surgery
You can expect some discomfort after surgery. You will need to wear an eye patch for a short period of time. Your ophthalmologist will prescribe any necessary medications for you and advise you when to resume normal activity. Flashes and floaters may continue for a while after surgery. You should take note and report this to the ophthalmologist. Improvement in your vision after surgery will depend on many variables.
Note: DO NOT FLY IN AN AEROPLANE OR TRAVEL UP TO HIGH ALTITUDES IF YOU HAVE A GAS BUBBLE INSIDE THE EYE
A rapid increase in altitude can cause a dangerous rise in eye pressure if gas has been placed inside the eye.
After the operation the vision may take some time to improve. A change in glasses after several months may help.
Risks of surgery
Infection
Bleeding
High pressure in the eye
Cataract
Most retinal detachment surgery is successful, although a second operation is sometimes needed. If the retina cannot be reattached then the eye will continue to lose sight and ultimately become blind. Vision may take up to months to improve and in some cases may never return fully. The more severe the detachment, the less vision may return.