Corneal Cross Linking For Keratoconus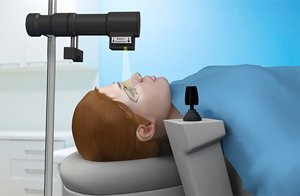 What is Keratoconus?
Keratoconus is a disorder of the cornea characterized by progressive thinning and ectasia which results in deterioration of the quality of vision and also the quality of life. As the disease begins in young adults, it affects the most productive years of life. So far there has been no effective way to stop the progression of keratoconus. Current methods such as rigid contact lens in and intra-corneal ring segment implants can only treat the refractive error without any effect on the progression of keratoconus. It is estimated that eventually 21% of the keratoconus patients require surgical intervention to restore corneal anatomy and eyesight.
A new modality called collagen cross-linking is now used to change the intrinsic biomechanical properties of the cornea, increasing its strength by almost 300%. This increase in corneal strength has shown to arrest the progression of keratoconus in numerous studies all over the world.
What is collagen cross-linking?
Collagen cross-linking combines a photosensitizing agent, riboflavin (vitamin B2), with ultraviolet light (UVA, 365nm) exposure. In extensive experimental studies (including biomechanical stress & strain measurements) researchers have demonstrated a significant increase in corneal rigidity / stiffness after collagen cross-linking using the riboflavin/UVA treatment. The 3 & 5 year results of Dresden clinical study in human eyes has shown arrest of progression of keratoconus in all treated eyes. (Wollensak G. Crosslinking treatment of progressive keratoconus: New Hope. Current Opinion in Ophthalmology 2006; 16: 356-360)
How is the treatment done?
The treatment is performed under topical anaesthesia in the day surgery. The skin (epithelium) of the surface of the cornea is partially removed, followed by application of Riboflavin eye drops for 30 minutes. The eye is then exposed to UVA light for 30 minutes. After the treatment, a topical antibiotic is applied and an eye-pad is worn overnight until the next day when the surface of the eye has healed.
Who can benefit from this treatment?
Collagen cross-linking treatment is NOT a cure for keratoconus, rather, it aims to halt the progression of the condition. This is important to understand. Patients will continue to wear spectacles or contact lenses (although a change in the prescription may be required) following the cross-linking treatment. The main aim of this treatment is to arrest progression of keratoconus, and thereby prevent further deterioration in vision and the need for corneal transplantation. Only patients with documented progression of keratoconus are suitable for this treatment. In patients with advanced keratoconus and extremely thinned corneas, this treatment may not be possible. In such a situation other alternatives such as forms of corneal transplantion – including deep anterior lamellar keratoplasty (DALK) could be considered.
PATIENT INSTRUCTIONS PRE-OP
Please note the following instructions in preparation for your procedure:
The DO NOT:
Do not plan to drive after your procedure or for approximately 1 week, because your eye may still be sensitive and/or painful, or the vision more blurry than usual.
We strongly recommend that you have an escort to
take you home.
Do not wear your hard contact lenses for 4 weeks and no soft contact lenses for 1 week prior to your procedure, and not until Dr Lewis advises after the procedure.
Do not wear any eye make-up, perfumes or after-shave lotion on the day of your procedure.
The DO:
If pre-operative eye drops have been given please follow instructions as prescribed prior to your surgery.
Do wear comfortable warm clothing (no woollen or fluffy jumpers).
You may eat a light meal and fluid before your procedure, unless you plan for general anaesthetic or intravenous sedation.
Do plan to have a restful day and evening after your procedure.
Do come back for your scheduled post-operative consultations.
Take extra care and avoid getting anything in your eyes including water, soap or shampoo for the first 2 weeks.
Avoid swimming, wearing eye make-up or applying creams around the eyes for 2 weeks
PLEASE:
Please complete and bring back the attached consent form with you on the day.
Please bring a pair of non-prescription sunglasses with you on the day.
Please note that we will call and confirm your surgery time within 1 week of your surgery.
Please note that the day surgery fee is payable on the day of your procedure, and the doctors fee is payable at your first post operative visit.
POST-OPERATIVE INSTRUCTION FOR
CONTACT LENSES:
To assist with the healing of the surface treatment area, we have placed a bandage contact lens in your eye. The contact lens will aid with the pain and discomfort and it should not be removed. You doctor will review the surface on you 1-day postoperative visit and may or may not need to remove the contact lens.
MEDICATIONS:
Your anaesthetist will advise you on this.
Panadeine Forte: take two tablets to help reduce any pain or discomfort. Allow at least 4 hours between doses. Do not drive or operate machinery while taking this medication.
Phenergan: take one tablet to help you sleep, if needed.
EYE DROPS:
Amethocaine (Anaesthetic drop): you may instill one drop to the treated eye ONLY if the eye is in pain, during the first 48 hours, please limit your use if possible.
Acular (Anti-inflammatory): instill one drop three times a day to the treated eye for 3 weeks. This is to help reduce inflammation and discomfort.
Tobrex (Antibiotic): instill one drop three times a day to the treated eye for two weeks.
Cellufresh (Lubricating eye drops): instill one drop three times a day or more into the treated eye for at least 3 weeks.
Celluvisc (Lubricating eye gel): instill one drop at night into the treated eye prior to going to sleep.
PATIENT CONSENT FORM
Corneal Cross Linking (CCL) is a surgical procedure using the UV-X system together with the Riboflavin/Dextran solution for patient with progressive keratoconus, pellucid marginal degeneration or iatrogenic ectasia.
I declare that the following statements have been clearly explained to me and are true to the best of my knowledge:
I have informed the eye surgeon of any general or ocular health complications that could affect the outcome of my surgery; these include diabetes, pregnancy, allergies, glaucoma and any kind of surgery in the past 6 months.
I have had the opportunity to discuss the risks and benefits of CCL surgery with the eye surgeon. I understand that it is impossible to have every conceivable complication explained but I am satisfied that all my questions have answered adequately and I accept the risks associated with this procedure.
I understand that corneal collagen cross-linking with Riboflavin and Ultraviolet A light is a relatively new technique and while international studies have published results up to approximately 10 years the long term results and effects of the procedure are unknown.
There may be some side effects following CCL surgery in the first week after the operation, such as pain or discomfort of the eye and a bandage contact lens will be used during the first week of healing. I have been advised to avoid driving a motor vehicle during this period.
There are complications that may occur from CCL. These are slow or irregular healing, corneal infection or ulcer, persistent glare or halos or ghost images around lights and loss of best-corrected vision due to irregular astigmatism or corneal scarring. Severe infection or corneal distortion may cause permanent visual loss.
In order to ensure ocular health after surgery I must comply with the instructions and regime of eye drops, medications and follow-up visits as explained to me by the staff.
PATIENT STATEMENT:
I understand the points as outlined to me in the consultations and in the Consent Form. The CCL procedure has been discussed with me in depth and I have had my questions answered satisfactorily.
I give my permission for CCL surgery to be performed on my eye(s).